Public Transport in Stuttgart


The operator of the public transport in Stuttgart is
Verkehrs- und Tarifverbund Stuttgart GmbH (VVS)
Rotebühlstraße 121, 70178 Stuttgart
Telefon (0711) 66 06-0, Fax (0711) 66 06-2 57
eMail: kontakt@vvs.de

and the Stuttgarter Straßenbahn AG (SSB).
Telephone no. of Customer Advice: 0711 / 7885 - 2410



It is possible to obtain information about transport and connections within Stuttgart, and the whole of Germany.

VVS-connections within the region of Stuttgart

Here you can get the present departuremonitor from single bus or train stops!

Since end of ´98 you can get timetables from single bus or train stops as PDF-files!
- similar to the printed ones!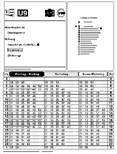 Tickets and prices including year-, month- and weektickets, etc.

You can also obtain the pages from the timetable-book as PDF-Files (for all VVS-Lines including busses)

Here is the Adobe Acrobat Reader to view and print PDF-Files.


The complete VVS plan can be bought for a cost of 4,50 DM at the main railway station as well as in the majority of the VVS ticket counters. A new plan is issued each year in May.
There is also a CD-Rom "EFA - WIN" available.

The S and U trains (S trains link smaller towns to Stuttgart, U trains are the underground trains linking the various parts of Stuttgart) and Street trains (trams) run daily between the hours of 5.00 am and 1.00am.
The up-to-date network map shows also P+R car parks and is available as PDF-File

Network map as gif-file (possible old) of the VVS (Verkehrsverbund Stuttgart)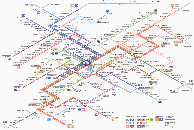 Table of P+R car parks with price informations and some lokal maps

Night Buses:
The Night Buses run only on saturdays and Sundays and depart at 1.15 am and 2.30 am from the Schloßplatz (New Palace grounds).

The up to date night bus network map as PDF-File

The night bus network-map as gif_file (possible old)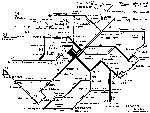 ---
all Prices and offers of the VVS
Prices in DM, 1 DM = 0,51129 EUR , 1 EUR=1,95583 DM

Here is the Tarifzonenplan.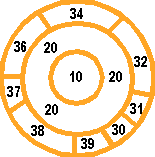 ---
Rail plan of the German train network, "Deutsche Bahn AG"

Information about the German trains can be obtained 24h per day under
Tel. 01805 / 996633 (0,24 DM / Min).

The Departure Timetable for the trains from Stuttgart's Main Railway Station can be obtained here.


Arrival-timetable for the trains to Stuttgart's Main Railway Station

---

The Airport Stuttgart, Arrivals and Departurs

The Airport information can be found under Tel. 0711 / 948-33 88

---
With "Deutsche Touring / Eurolines" also single travellers can reach many destinations in Germany and most countries in europe by bus at low costs.
In their webpages all routes and prices are available.

Deutsche Tuouring GmbH
Arnulf -Klett - Platz 2
70173 Stutttgart-Hauptbahnhof
(Exit to Königstraße, Arkaden)
Tel. 0711/224700 Fax 0711/2247024
Busstop: Zentraler Omnibusbahnhof (ZOB)
South of the Railway Station

---
The Taxi central office Stuttgart phone 0711 / 19410
(The telephone no. 19410 can be used in all towns in Germany)
Basefee 2,40 EUR
+ 1,00 EUR if ordered by phone
km - price: 1,40 to 1,50 EUR
waitingfee per hour 23,00 EUR about 38 cent / minute)

Taxifees in Detail

Taxipoints with Phonenumbers
---
Car Rentals, Motorbike Rentals and Bicycle Rentals can be found within "WHO OFFERS WHAT" (Company - Database Stuttgart)


---
Car-Pooling / Get A Lift Agencies can be found within "WHO OFFERS WHAT" (Company - Database Stuttgart)