Stuttgart, the city located between forests and vineyards, is an urban community in Southwest Germany.
As the state capital of Baden-Württemberg, Stuttgart is not only an industrial city with world famous automobile companies and state-of-the-art science and research facilities; Stuttgart is also a cultural city that has made a name for itself through its renowned State Opera and ballet programs, and the exceptional art collections at the State Gallery and the Gallery of Stuttgart.

Stuttgart's main attractions are clearly the hilly landscape, the numerous vineyards that stretch all the way to the city center, the many parks that make Stuttgart one of the greenest cities in Germany and the mineral water fountains that characterize this region as having the largest source of mineral water in Western Europe.



Population: 591 127 (January 31, 2008)
Geographical Location: Latitude: 48° 47' N, Longitude: 09° 11' W
Lowest Point: 207 m above sea level
Highest Point: 549 m above sea level
Postal Codes: 70001 - 70629
Area Code: 0711
License Plate ID: S
Suburbs: 23 districts

Map
City Council: Marktplatz 1, 70173 Stuttgart, Tel.: 0711-21 60
Mayor: Fritz Kuhn
Climate

Climate Data in Retrospect

www.stadtklima-stuttgart.de

The climate is temperate; the yearly average is 10 degrees C. Stuttgart's climate is characterized by its warm summers and mild winters.
The yearly precipitation is approximately 700 mm.
Since the Roman times, the combination of the valley and its mild climate have been put to good wine production use, as seen by the many vineyards throughout Stuttgart.
The following diagram shows the average monthly temperatures and precipitation: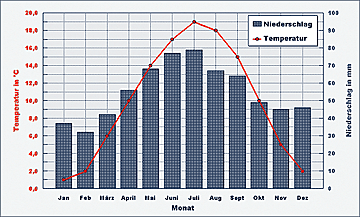 Twin Cities


Stuttgart is partnered with the following places:




Straßburg,
France
since 1962
Cardiff,
UK
since 1955
St. Helens,
UK
since 1948
Lodz,
Poland
since 1988
St. Louis,
USA
since 1960
Cairo,
Egypt
since 1979

Menzel-Bourguiba,
Tunisia
since 1971
Samara,
Russia
since 1992

Brünn,
Czech Republic
since 1989


Mumbai,
India
since 1968
Additional information about Stuttgart can be obtained from:
Stabsabteilung Kommunikation
der Stadt Stuttgart

Rathauspassage 2
70173 Stuttgart - Mitte

Tel.: 0711 / 2 16 24 53
Fax: 0711 / 2 16 77 05
Email: info@stuttgart.de